Oc evildead
From Obsidian Conflict Wiki
Language:
[[::Oc evildead|English]]  •

[[::Oc evildead/zh-hans|中文(简体)‎]]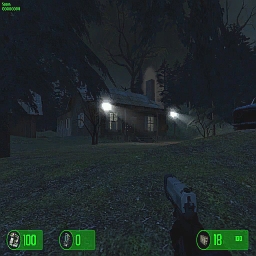 Map Info
Map Name
oc_evildead
Author
Hickadam
Genre
Combat
Suggested Players
2-8
Requirements:
Half-Life 2
Starting Weapons:
weapon_crowbar
weapon_pistol
weapon_healer
Gameplay
The players must fight Deadites to survive.
Weapons / Items
weapon_crowbar
weapon_pistol
weapon_healer
weapon_shotgun
weapon_357
weapon_physcannon
item_healthkit
item_battery
item_box_buckshot
item_ammo_pistol
item_ammo_357
item_box_sniper_rounds
weapon_sniperrifle (cannot respawn after picked up)
NPCs in map
Note: (<name>) = name of NPCs in map.
npc_zombie (Deadite)
npc_zombine (Suicidal Deadite)
npc_headcrab (Burning Crab)
npc_zombie_torso (Stubb)
npc_stalker (Beam Deadite)
npc_fastzombie (Fast Deadite)
npc_poisonzombie (Cellar Deadite)
npc_antlionguard (EVIL)
npc_antlion
npc_mossman (Victim)
Safeplaces in the map
This will come in handy if you need to get healed, be afk, or just a place to chat.
Cellar (until the Cellar Deadites come)
Attic
Spawning point (only accessible if you die)
Trivia
This map came directly from the movie The Evil Dead, a movie that came out in the 1980s, directed by Sam Raimi.