Oc breakout
From Obsidian Conflict Wiki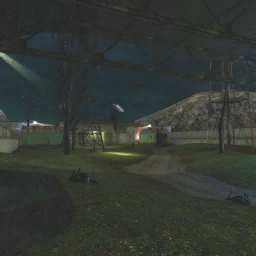 Map Info
Map Name
oc_breakout
Author
Tysn
Genre
Linear/Combat/Puzzle
Suggested Players
2-8
Starting Weapons:
weapon_crowbar
weapon_healer
Game Requirements:
Half-Life 2
Gameplay
Begin escaping from the prison while the combine are distracted by rebel mortars.
Weapons / Items
weapon_crowbar
weapon_healer
weapon_357
item_healthkit
item_battery
item_ammo_357
weapon_pistol
item_ammo_pistol
weapon_stunstick
weapon_uzi
item_ammo_smg1
weapon_shotgun
item_box_buckshot
custom_spaz12 (hidden at the locked area, see tips below)
weapon_alyxgun
weapon_ar2
item_ammo_ar2
weapon_frag
weapon_physcannon
weapon_sniperrifle
item_box_sniper_rounds
weapon_slam
weapon_manhack
NPCs
Note: (<name>) = name of NPC in map
npc_metropolice
npc_combine_s <regular and shotgunner>
npc_turret_floor
monster_human_assassin (assassin)
npc_manhack
npc_sniper
combine_mine
Tips
In the the area between the elevator and the basement maze, there is a door with metal bars bracing it. You can use an explosive barrel to blast these metal bars off to get the equipment inside.