Oc broken escape
From Obsidian Conflict Wiki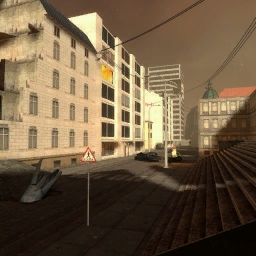 Map Info
| | |
| --- | --- |
| Map Name | ep1_oc_broken_escape_01, ep2_oc_broken_escape_02a, ep2_oc_broken_escape_02b, ep2_oc_broken_escape_02c |
| Author | Shana |
| Genre | Linear/Combat/Puzzle |
| Suggested Players | 2-8 |
Gameplay
This long campaign starts off with the players having to escape city 17 on foot after their escape train had to stop.
As the map progresses, players will come across a huge combine underground base they have to discover.
This campaign is very fast-paced and follows classic co-op gameplay, which means endless player respawns and supplies. It is still required to cooperate with other players and keep them alive to not lose a tactical position or map progress.
Cooperation is also often required to progress in the map, like solving 2-player puzzles.